TO TAKE OR NOT TO TAKE ANTIDEPRESSANTS? POLITICS OF THE SELF IN THE ERA OF PSYCHOPHARMACOTHERAPY
Article
Keywords:
self, autonomy, authenticity, moral dignity, transcendental apriori, historical apriori, the moral heuristics of the late modernity
Abstract
[In Russian]
The emergence of SSRIs (selective serotonin reuptake inhibitors) in modern psychopharmacotherapy has led not only to blurring the boundary between norm and pathology in the individual's mental life, but also to questioning some of our basic ideas about the self and personality. The article carries out a phenomenological analysis of transformations in the experience of the self (shifts in self-understanding and self-identity) which occur due to the use of antidepressants and are identified through the problematization of such key characteristics of modern subjectivity as autonomy, authenticity and moral dignity. The empirical basis of the study is a series of semi-structured interviews with people taking antidepressants. The intake of these psychotropic substances is analyzed as a practice that requires the individual to develop his/her own politics of the self, namely, to answer the question: what does it mean to be yourself and what criteria of normality does the individual rely on? The expression "politics of the self" emphasizes the point that the individual is not only affectively-passively, but also reflectively included in the transformations of the self associated with the use of antidepressants. The article is divided into three parts devoted respectively to the following stages: (1) the decision-making phase regarding treatment with antidepressants, (2) existential experiences while taking these drugs, (3) the individual's evaluation of his/her experience of taking antidepressants after completion of the therapy. The article shows that taking antidepressants performs a heuristic function revealing, firstly, usually not problematized grounds for individual's self-understanding and, secondly, the fact that these grounds are a matter of the politics of the self and not a natural (innate) giveness. Drawing on the differentiation between transcendental a priori and historical a priori in the constitution of the self, the author argues that antidepressants are specific agents of the cultural transformation of self-identity which question and test the strength of the historical a priori in the constitution of the self. The author concludes that antidepressants are instruments of the ultimate (critical) moral heuristics of the late modernity for they lead to the line where the self discovers the possibility of revising not just boundaries, but the very meaning of the principle of autonomy.
Downloads
Download data is not yet available.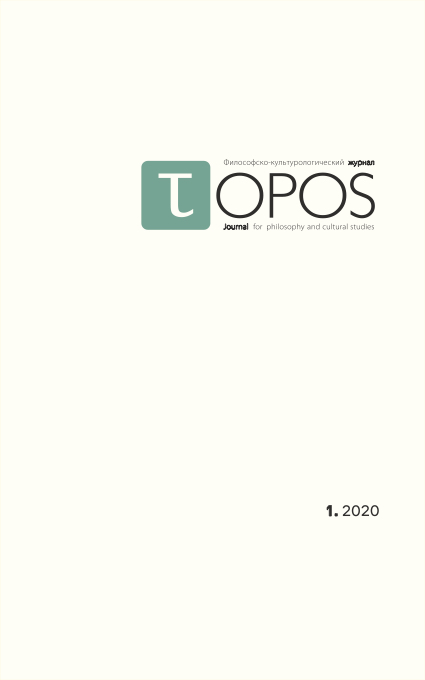 How to Cite
Shchyttsova, T. (2020). TO TAKE OR NOT TO TAKE ANTIDEPRESSANTS? POLITICS OF THE SELF IN THE ERA OF PSYCHOPHARMACOTHERAPY. Topos, (1), 51-75. Retrieved from http://journals.ehu.lt/index.php/topos/article/view/1000
Section
SELF IN THE ERA OF PSYCHOPHARMACOTHERAPY
Copyright (c) 2020 Tatiana Shchyttsova
This work is licensed under a Creative Commons Attribution-NonCommercial-NoDerivatives 4.0 International License.
This journal allows the author(s) to hold the copyright without restrictions.