TEMPORALIZATION OF MOTHER-CHILD RELATION: EXPERIENCE OF CHRONIC PAIN
Article
Keywords:
chronic pain, affectivity, female subjectivity, maternity, temporality, responsibility
Abstract
[In English]
This paper reflects on how different modes of chronic pain can affect ethical content of motherhood and its temporality. Addressing a phenomenological analysis of study cases (interviews, media posts and diaries of patients at the Pain Clinic in Helsinki Hospital Area), I aim to show that chronic pain affects different temporal modes which have an ethical meaning for the shared and embodied mother-child relation: being present for the child, being with the child in the future, being de-phased, being late, loosing time, or not being able to be with and for the child. The main goal is to demonstrate that chronic pain challenges the normative, moral, and ethical concept of being a responsible mother and it introduces everlasting traumatization and stigmatization of the subject. One of the arguments I follow is that experiencing chronic pain mothers perceive time as disrupted one and the one which does not necessarily have potentiality or life horizon. In other words, it leads to discontinuous temporality (lapses of time, instants, de-phases) rooted in traumatized female sensibility and it affects validity of the intersubjective world of mother-child relation. This problematizes many aspects of ontological conditions of woman's embodiment and questions possibility of social dialogues: modalities such as "being for the child", "being at the moment of present", "being responsible in the future" and "being-with" force a discussion of what it means to be ashamed of the pain and being guilty in contemporary community.
Downloads
Download data is not yet available.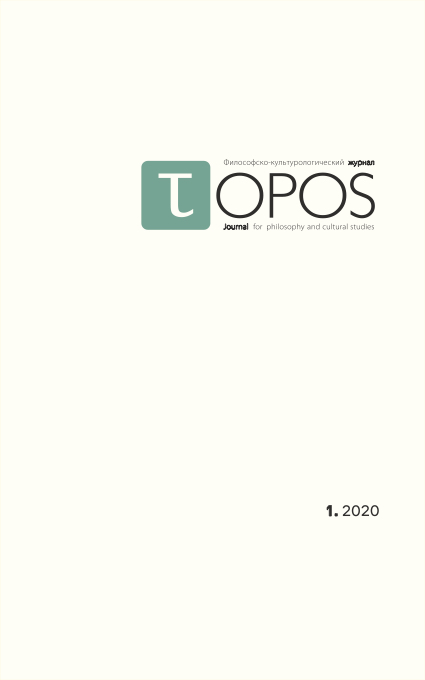 How to Cite
Poleshchuk, I. (2020). TEMPORALIZATION OF MOTHER-CHILD RELATION: EXPERIENCE OF CHRONIC PAIN. Topos, (1), 158-175. https://doi.org/10.24412/1815-0047-2020-1-158-175
Section
PHENOMENOLOGY OF PAIN
Copyright (c) 2020 Irina Poleshchuk
This work is licensed under a Creative Commons Attribution-NonCommercial-NoDerivatives 4.0 International License.
This journal allows the author(s) to hold the copyright without restrictions. Topos Journal uses CC BY-NC-ND 4.0 license (license URL: http://creativecommons.org/licenses/by-nc-nd/4.0)